The attack on government buildings in Brasilia followed Bolsonaro's decision to skip the inauguration of his leftist rival Luiz Inácio Lula da Silva and instead seemingly fly to the U.S., where he is believed to be in suburban Orlando.
The actions of Bolsonaro and his backers came as little shock to analysts who have been following the former army captain, who has often praised Brazil's past era of military dictatorship.
"Bolsonaro ran on a very Trump-like ticket," Todd Landman, professor of political science at the University of Nottingham, told NBC News. "He looked to Trump as a person to imitate. He also raised doubts about the integrity of the electoral process well in advance," he added.
After his defeat to Lula in October, Bolsonaro didn't explicitly concede. 
His supporters had been camping in front of military bases for months, calling for the army's intervention. On Sunday, days after Lula's inauguration, thousands donning the iconic yellow and green color of the national flag stormed and then trashed the sites of the country's democracy.
President Joe Biden tweeted that the riots were an "assault on democracy and on the peaceful transfer of power in Brazil," and that he looked forward to continue working with Lula. His condemnation was joined by other countries like the U.K, France, Australia, Spain and Italy.
NBC News reached out to the White House for comment on congressional Democrats' demands for Biden to remove Bolsonaro.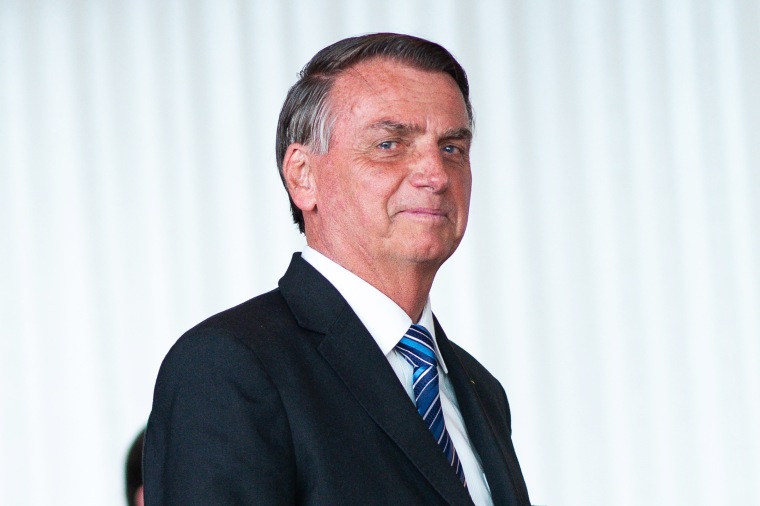 But despite the growing calls from lawmakers in Washington, experts said any decision to remove Bolsonaro from the U.S. may not be swift.
"They would have to have uncontroversial evidence that there's a direct link or a set of explicit instructions that came from Bolsonaro to carry this out," said Landman. 
If Biden doesn't choose to revoke his visa, Brazil may formally seek his extradition after issuing an arrest warrant. Bolsonaro's visa status was not immediately clear.
Lula had already vowed to go after Bolsonaro during his inauguration speech on Jan. 1 if needed and on Sunday didn't hesitate to lay the blame at the feet of his predecessor. 
"This genocidist … is encouraging this via social media from Miami," Lula said Sunday in a news conference during an official trip to Sao Paulo state. "Everybody knows there are various speeches of the ex-president encouraging this."
Bolsonaro later rejected the allegations, saying on Twitter that peaceful protest was part of a democracy but that vandalism and invasion of buildings were "exceptions to the rule."
Although continually challenging the election results and casting doubt on the voting process, Bolsonaro has stopped short of an explicit call for action. But he did praise supporters who have nonetheless blocked roads, held rallies and even invaded police headquarters in the capital in December. 
"He's afraid that if he said something like Trump did, he could be prosecuted and then be put in jail, especially when he lost the election," Yuri Kasahara, a senior researcher at the Oslo Metropolitan University, told NBC News, adding that Bolsonaro had lost his presidential immunity.
Unlike the Capitol riot, very few officials were in the buildings at the time of Sunday's insurrection, and Bolsonaro's supporters faced little opposition from local law enforcement. That led some to question their involvement.
The Supreme Court's chief justice ordered Brasilia's governor, Ibaneis Rocha, a staunch backer of the far-right former leader who was responsible for the capital's security, to be removed for 90 days.
At least 300 people have already been arrested, according to police, while authorities were now combing the buildings for fingerprints and images. 
They have also begun investigating those who paid for the buses that transported the protesters to the capital, Justice Minister Flávio Dino said, adding that the acts amounted to terrorism and coup-mongering.
"They will not succeed in destroying Brazilian democracy," he said.