New intelligence suggests China is considering sending artillery and ammunition to Russia, according to three U.S. officials familiar with the matter.
The officials did not say what specific evidence they had to support the intelligence that was also confirmed to NBC News by a former U.S. official and a western official briefed on the matter, and originally reported by the Wall Street Journal.
NBC News has contacted China's Ministry of Foreign Affairs for comment about the disclosure which comes after Beijing put forward a 12-point peace plan on Friday — the first anniversary of Russia's invasion of Ukraine. It called for both countries to agree to a gradual de-escalation, keep nuclear facilities safe, establish humanitarian corridors and prevent attacks on civilian populations. 
Earlier this month Beijing hit back strongly against U.S. allegations that it may be providing nonlethal military assistance to Moscow, telling Washington to stay out of its relationship with the Kremlin.
It "could be a significant development" if China did decide to provide arms to Russia, Rob Lee, a senior fellow at the Foreign Policy Research Institute, a Philadelphia-based think tank, said on Twitter.
He added that "artillery ammunition availability for Ukraine and Russia is arguably the single most important variable that could influence the course of the war."
But Keir Giles, a Russia expert and a senior consulting fellow at the London based think tank Chatham House, told NBC News by telephone Sunday that "previous assessments and predictions of Russia imminently running out of a given type of ammunitions has not turned out to be the case in real life."
He added that if Moscow was turning to alternative suppliers "over and above the drones it has received from Iran," then it was "an indication that they are depleting their post-cold war stocks of arms and munitions at a pace they feel is unsustainable."
Phillips O'Brien, a professor of strategic studies at the U.K.'s University of St. Andrews said that it would be a "strange choice," for China to make as it would "seriously degrade relations with China's biggest customer grouping," in the U.S. and Europe.
Chinese hopes that the delivery of ammunition would be perceived as a "limited" form of aid, drawing a "limited response" was a "risky assumption to make," he said.
After China unveiled its peace plan, Ukraine's President Volodymyr Zelenskyy said Friday that he wanted to meet with his Chinese counterpart, Xi Jinping, to discuss Beijing's proposals for ending the conflict.
"China historically respects our territorial integrity, and it should therefore do everything for Russia to leave the territory of Ukraine," he told a news conference, adding that he believed a meeting with Xi would "benefit our countries and security in the world."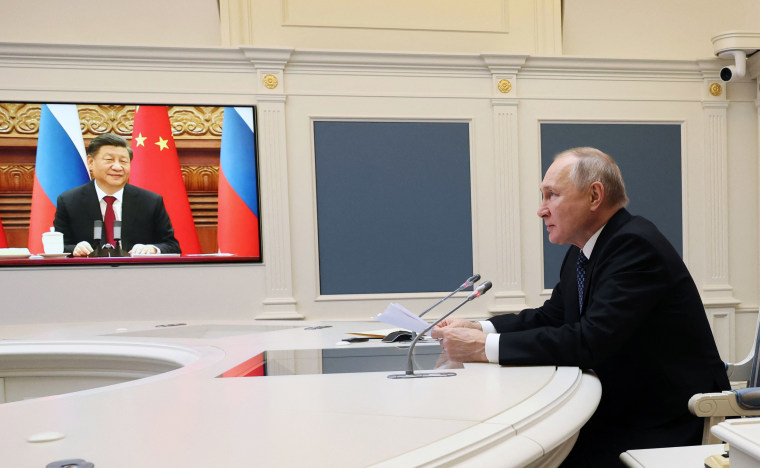 He did not say if a meeting with had been arranged with the Chinese leader or give any indication of when it might take place, but he insisted his main goal was ensuring that China had not supplied weapons to Russia.
President Joe Biden and European leaders appeared skeptical about Beijing's peace proposals.
Describing the idea as "just not rational," Biden told ABC News on Friday that he had "seen nothing in the plan that would indicate that there is something that would be beneficial to anyone other than Russia."
Speaking at a news conference in Estonia on Friday, NATO Secretary General Jens Stoltenberg also said that China did not "have much credibility because they have not been able to condemn the illegal invasion of Ukraine."
At the same news conference European Commission President Ursula von der Leyen said that European leaders would look at the Chinese principles for peace "against the backdrop that China has already taken sides."
Eric Baculinao contributed.