Emergency personnel said early Sunday they could hear people trapped under piles of debris screaming for help, but with freezing temperatures rescuers faced a race against time to pull them from the rubble.
Observing a moment of silence in a house destroyed by shelling, rescuers overheard one woman and managed to pull her from the debris, Denys Monastyrskyi, Ukraine's minister of internal affairs, said in a Telegram post.
Officials warned that the strikes — Russia's largest in two weeks —would restrict power supplies in the capital and over large swaths of the country this week. In Kharkiv, underground subway systems suspended operations amid the attacks and regional officials urged residents to seek shelter. 
The bombardment continued Sunday, when the Ukrainian military command said Russia had launched three air strikes, 57 missile strikes and 69 attacks from heavy weapon rocket salvo systems on Sunday. Ukrainian forces shot down 26. 
Moscow did not comment on the attacks on either Saturday or Sunday.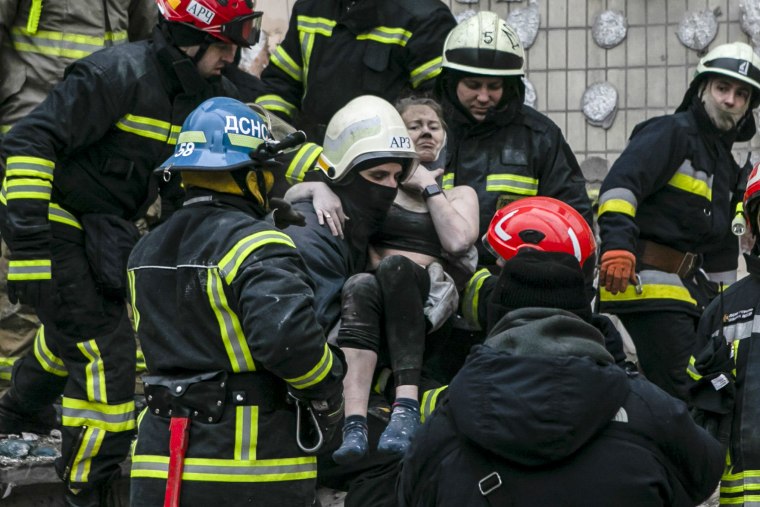 Elsewhere, there were conflicting reports about the fate of the fiercely contested salt mining town of Soledar in eastern Ukraine.
Russian forces claimed to have captured the town Friday with the assistance of the Wagner Group, a private military force.
It would mark a rare victory for the Kremlin as it approaches one year since it invaded Ukraine last February, with little success on the battlefield.
Ukraine's Defense Minister Hanna Malyar denied reports that Soledar had fallen on Saturday, and added that "fierce battles" for the town continue.