In a sign of the damaging lack of unity among the Russian opposition, former oligarch Mikhail Khodorkovsky, ex-chess-champion-turned dissident Garry Kasparov and, most importantly, members of the team of imprisoned resistance icon Alexei Navalny, decided to skip Jablonna. 
"Russian elites are often selfish," Stefan Meister, program director at the German Council on Foreign Relations in Berlin, said. "They don't get along with each other. A unifying leader is nowhere to be seen." 
Counting on the opposition would be naive, he said. 
"If at all, change will come from within the system, not from the opposition," he added. 
A system that might decide at some point that Putin is no longer the right man. Or maybe not. 
Scattered across Riga, Vilnius, Warsaw, Berlin and London, the opposition is obviously divided. But within Russia, it is crippled. 
According to Human Rights Watch, the Russian system is more repressive today than at any time in the post-Soviet era. 
Thousands of Putin critics are behind bars. The internet is under strict control of Roskomnadzor, the state watchdog that controls all content. 
Foreign organizations are labeled "foreign agents," if they are not banned outright. The authorities crack down on critics in the media, harass peaceful protesters and engage in smear campaigns against independent groups. 
Pressing the wrong "like" button on social media, retweeting a critical commentary or making a negative remark about the military can put a person behind bars — often for many years. 
In fact, many of the potential opposition leaders are already locked away — Navalny being the most powerful. He currently is serving time in the Penal Colony No. 2 east of Moscow. 
In March 2022, the 46-year-old Navalny was given a nine-year jail term after being found guilty of fraud. New charges were added last fall accusing Navalny of propagating extremism and calling for terrorism. All told, this could earn him around 30 years in prison. 
Close Navalny associates like his lawyer Lyubov Sobol and former campaign manager Leonid Volkov are trying to keep up the fight from abroad, producing a stream of YouTube videos, posting images and tweeting tons of messages. 
"Before the war, the prevailing thinking was: You can't be an opposition leader if you are outside Russia,'" Soldatov, the security expert, said. "Today, I believe that's wrong." 
With the internet and social media, there are ways to make yourself heard — even in a sealed-off country like Russia. Not only for Navalny, this realization would come too late. 
The same applies to Vladimir Kara-Murza and Ilya Yashin. Kara-Murza, 41, is deputy chairman of Open Russia, a nongovernmental  organization founded by Khodorkovsky, the former oligarch, that promotes civil society and democracy in Russia.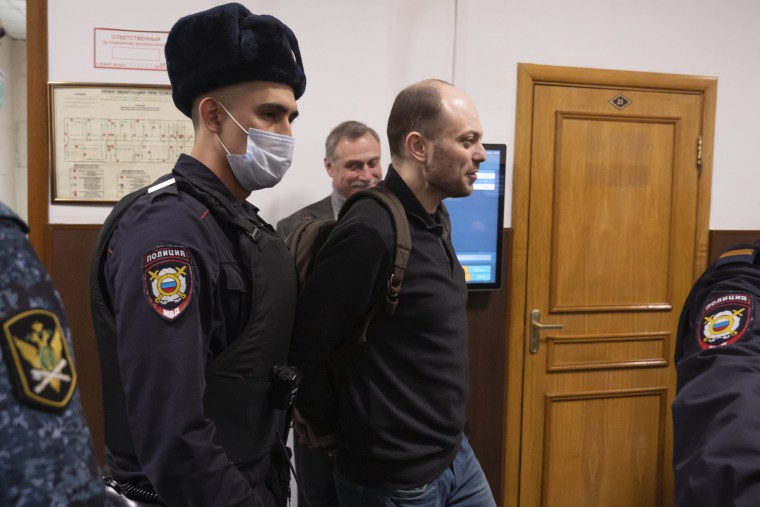 While Khodorkovsky served a 10-year prison sentence and now lives in the United Kingdom, Kara-Murza rots in a Moscow prison and faces 20 years or more for treason and other charges. 
In April 2022, Kara-Murza was accused of spreading false information about the Russian army, which carries a prison sentence of three to 10 years. The basis for the indictment was a speech Kara-Mursa gave in the Arizona state Legislature shortly after the war began, in which he spoke about Russian war crimes in Ukraine. 
Later last year, new charges against Kara-Mursa were filed — this time for collaborating with an "undesirable organization" while attending a 2021 conference of the Sakharov Center in Moscow.
Ilya Yashin is the latest prominent figure to be sentenced to a long prison term. Yashin, 39, was a close associate of former Russian Deputy Prime Minister Boris Nemtsov, who was assassinated in 2015. 
Last December, a Moscow court found Yashin guilty of "spreading false information" about the armed forces when he spoke about the killings in Bucha, Ukraine. The sentence: eight years and six months. 
Before his arrest in June 2022, Yashin was considered one of the few remaining opposition politicians who could reach a large audience. However, he has long been a thorn in the government's side, especially after playing a key role in the so-called Bolotnaya protests of 2011-13. At the time, many Russians took to the streets to criticize the allegedly rigged elections to the state Duma, the lower house of parliament.   
Andrei Kolesnikov is one of the few opposition activists still in Russia  who does not hold back with his opinion about Russia under Putin. For many years, the 57-year-old journalist worked for the renowned daily Izvestia. 
His outlook is gloomy.
"In Russia, the opposition is completely destroyed," he told NBC New via email. "What is not understood in the West is that Russia has a strictly authoritarian military-police regime with totalitarian elements. What's left of the remaining opposition leaders in Russia, they are now all in prison."