On TikTok, parents and nonparents alike have been thirsting after a member of one of the biggest children's acts in the world — the new purple Wiggle from The Wiggles.
John Pearce, 31, has been a member of the Australian children's entertainment group since 2021, but in the past week, he's seen a surge of attention, earning him the title of TikTok heartthrob.
The newfound attention focused on Pearce — who sings lullabies and originals such as "I'm John, I'm Strong!" — likely stems from a video Pearce posted this week in which he participated in a trend that stems from the movie "Zoolander."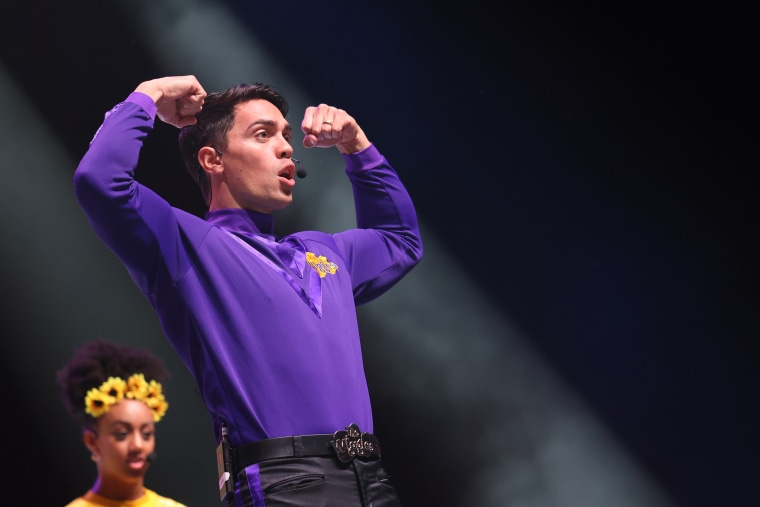 The trend plays out by having two different people or personas bumping into one another.
Originally, Pearce wanted to film the clip with the original purple Wiggle, Jeff Fatt, while the two were on a recent tour together. When Pearce returned home and realized he'd forgotten to film the clip, he decided to do it alone.
In the clip, Pearce's purple Wiggle persona bumps into his everyday self dressed in a cutoff T-shirt, revealing his toned and tattooed arms.
The comments on the video all share a similar sentiment.
"Bro I'm going to start watching the wiggles and i don't even have a kid," one reply reads.
Pearce's "Zoolander" video had more than 4.1 million views as of Friday afternoon. Pearce's other videos as the purple Wiggle also had millions of views, and the hashtag "#purplewiggle" had more than 1.2 million views across the platform on Friday.
Pearce said he's flattered by the attention during a Zoom interview with NBC News.
"The last couple days — it's definitely informed me of my demographic online. It's great," Pearce said with a laugh.
Pearce rose to prominence as a member of the song and dance group Justice Crew, which won the fourth season of Australia's Got Talent in 2010.
While Justice Crew was grounded from touring during the pandemic, Pearce had a stroke of luck when he ran into Anthony Field, who has been in The Wiggles since co-founding the group in 1991.
Pearce said that a conversation at a pizza shop about the music industry led to a friendship with Field, who invited him to The Wiggles headquarters. They began a project that led to Fruit Salad TV, a YouTube exclusive series featuring a diverse cast of eight Wiggles.
Eventually, Pearce was asked to come on full-time.
"It's a very rewarding job … you impact these families' lives in different ways and you do see that at meet-and-greets and at the shows, from Australia to Canada," Pearce said. "I love it."
One of his favorite parts of being in The Wiggles is getting to incorporate the dance skills and physicality he honed while in Justice Crew into his performances as the purple Wiggle.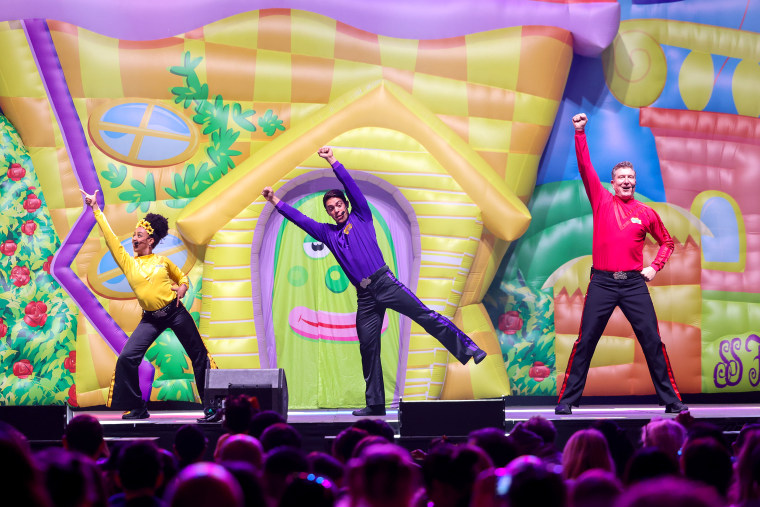 "It's really exciting, and for young kids, young boys especially, they really pick up on the break dancing and the athleticism that I try to bring to The Wiggles, and it's kind of cool they see me as the 'Spider-Man' or the superhero of The Wiggles," Pearce said.
After this past week, one thing is clear: It's not just young boys who are interested in Pearce.
"It's definitely opened up a whole new world of followers," Pearce said.
Many of the videos posted to social media about Pearce include young women and mothers expressing shock that their new celebrity crush just so happens to be a member of a decades-old children's group.
In one video, Evelien Langeveld, 36 and a mother of one, fans herself as she lays eyes on Pearce during a Wiggles performance. Taylor Swift's "Wildest Dreams" scores the clip, setting the mood as Langeveld appears to fall in love.
Langeveld, who lives in Sydney, said she discovered Pearce after her 21-month-old son, Archie, asked to watch The Wiggles' Christmas version of the song "Baby Shark." On repeat.
"That's when I was like 'Ohhh, helloooo John! Mama actually doesn't mind watching this either' LOL!," Langeveld said in an email.
In another video, one TikToker suggested following The Wiggles as they go on tour. The group is slated to tour in the United States this fall, the group's spokesman said.
"Back in my wiggles era, who wants to follow the rest of the tour with me," TikToker @onetoomanytwizzlers wrote.
TikTok user @KaylaMichelleFisher declared her entire "For You" page is filled with videos of The Wiggles.
"I really fell for the purple Wiggles' thirst traps," @KaylaMichelleFisher said in the video. "I ain't mad at it. Keep it coming, Wiggles. Keep it coming."
The TikTok love for Pearce has been a slow burn, according to some of his fans. TikToker Daphne Flack, 22, said she remembers seeing Pearce on her "For You" page last year as people began dubbing him the "hot" Wiggle. But Flack, who is from Australia but lives in New York City, said Pearce's new videos have created a fresh surge of attention, and he is once again all over her "For You" page.
"He is so precious and so wholesome and I just love him," Flack said.
Pearce said he's been moved by all the attention on TikTok, which he says has been only positive.
He added that he's looking forward to meeting his newest slew of fans when The Wiggles tour later this year.
"It's really cool, and some of the followers don't even have kids and they're saying it's given them a reason to start families because they want to watch The Wiggles, which is all great," Pearce said.