BRADFORD, England — The weekslong search for Nicola Bulley, a 45-year-old woman who vanished while walking her dog in a small English village, came to an end Monday when police confirmed her body was found.
But the intense debate set off by the case — and the surrounding circus in national and social media — may just be beginning.
The mortgage adviser disappeared Jan. 27 after dropping off her two daughters at school and taking the family's dog for a riverside walk in St. Michael's on Wyre in northeast England.
The only clues were her mobile phone, discovered on a bench near the river by a local dog walker, and the family's dog, Willow, running off its lead with its owner nowhere in sight. 
The mysterious disappearance drew the attention of an army of online sleuths, many of whom descended on the small village to pursue leads based off social media speculation. The investigation's twists also fueled a national conversation about privacy, sexism and police treatment of women.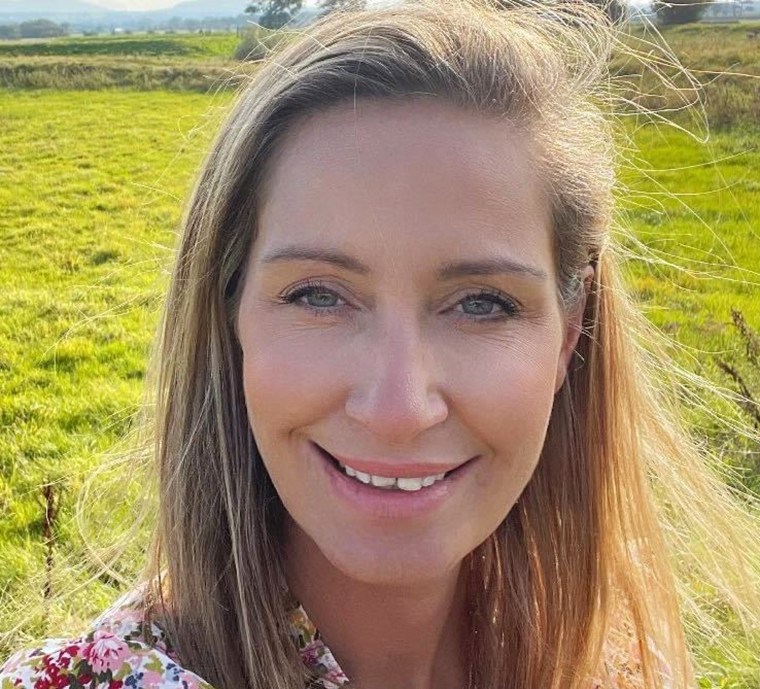 Privacy and police sexism?
Lancashire police announced early Sunday that an underwater search team and specialist officers had recovered a body in the River Wyre. Police confirmed the body was Bulley's in a statement Monday, bringing to a close the saga that dominated newspaper headlines and television coverage in Britain for weeks.
Family members described media attention on the case as "shameful," after several outlets contacted them despite a request for privacy.
Speaking of Bulley's two young daughters, the family statement said: "It saddens us to think that one day we will have to explain to them that the press & members of the public accused their dad of wrongdoing, misquoted & vilified friends & family."
Facing mounting criticism as the case went unsolved, police said last week that Bulley was classified as a "high-risk" missing person "based on a number of specific vulnerabilities." They then disclosed at a news conference that she struggled with "significant issues with alcohol" that were influenced by struggles with menopause that had "resurfaced over recent months."
The revelation drew criticism from many, including British Prime Minister Rishi Sunak, who told the BBC he was "concerned that private information was put into the public domain."
A day after Lancashire police revealed details about Bulley's struggles, her family issued a public statement saying they were forced to disclose personal information about her because there were people "speculating and threatening to sell stories about her."
"Due to the peri menopause, Nikki suffered with significant side effects such as brain fog, restless sleep and was taking Hormone Replacement Therapy (HRT) to help, but this was giving her intense headaches which caused Nikki to stop taking the HRT thinking that may have helped her but only ended up causing this crisis," the statement said.
At a time when trust between women and police in Britain has been eroded by a series of high-profile scandals and murder cases, the revelation that Bulley was struggling with menopause was also criticized by some as having sexist undertones.  
"The moment this information was released, there seemed to be a collective response framing Nicola as being a menopausal alcoholic," said Fiona L. Brown, a lecturer and doctoral researcher at the University of East London. 
"This was sensitive information which really allowed a narrative of Nicola being a hormonal, middle-aged woman who took to alcohol to 'cope'," she said. "Prior to this, she had been framed as a loving, caring mother and partner with a professional career."
"It certainly would not have been information that police released had this been a man."
NBC News has reached out to Lancashire Police for comment.
Too far for true crime?
Police tasked 40 detectives with combing through hundreds of hours of CCTV footage to try and solve the case, carrying out searches on land and underwater in the river and surrounding waters while consulting with environmental and tidal experts.
As confidence in the police's work plummeted, some members of the public took the case into their own hands.
The local community organized a search, while social media like TikTok was saturated with videos from people interested in the case, as well as influencers and self-appointed experts speculating about what might have happened and garnering tens of thousands of views.
Some even broke into derelict buildings in the local area or launched nighttime patrols, challenging locals who found strangers skulking through their property and drawing criticism from police for hindering the investigation.
One influencer said he had been detained and fined by police after posting on YouTube that he had been in "people's back gardens at night-time with torches." 
With the release of a stream of true-crime documentaries and the Netflix dramatization of several serial killer cases, the public fascination with true crime has never been more insatiable.
Does the circus surrounding Bulley's disappearance suggest it has gone too far?
"At a social level, it's been true crime that has done the heavy lifting, about exposing misogyny, femicide, homophobia and ageism," said David Wilson, a prominent British criminologist and professor of criminology and sociology at Birmingham City University.
"There will be a backlash against true crime" after the Bulley case, he said. "But I think what I would like people to have a backlash against are those subgenres of true crime, which are really not concerned with legitimately trying to solve the mystery, but are instead generating and speculating."
So why did Bulley's disappearance draw so much attention?
The vast majority of adults who go missing in Britain are found within 48 hours, according to Missing Persons, a charity in the United Kingdom that reunites missing children and adults with loved ones. Only 5% are missing for longer than a week, it found.
"One of the reasons why I think there's been all this speculation, is because she is one of that 5% that does not get found within 48 hours," Wilson said.
He added that the unusual attention Bulley's disappearance received online may also have been rooted in what he described as her being perceived as an "ideal victim."
"An 'ideal victim' is female, white, middle class, and Nicola came from a picture-perfect postcard village where crime was almost nonexistent," Wilson said. "Her case was always going to generate much more interest than say a working-class Black woman who might have disappeared from an estate in inner London."