The United States was cast as the "primary source" of international tensions for supporting Ukrainian attacks on Crimea, Kremlin spokesman Dimtry Peskov said Sunday, a day after Vice President Kamala Harris accused Russia of crimes against humanity.
"There is no readiness or openness to peaceful initiatives on the part of the collective West," Peskov was quoted as saying by state news agency Tass, which reported that he made the comments on the "Moscow. Kremlin. Putin" TV program on the Rossiya 1 TV channel.
Peskov was also asked about comments from Victoria Nuland, the under secretary of state for political affairs, who said Thursday that the United States believes Crimea, which Russia annexed from Ukraine in 2014, should be demilitarized "at a minimum."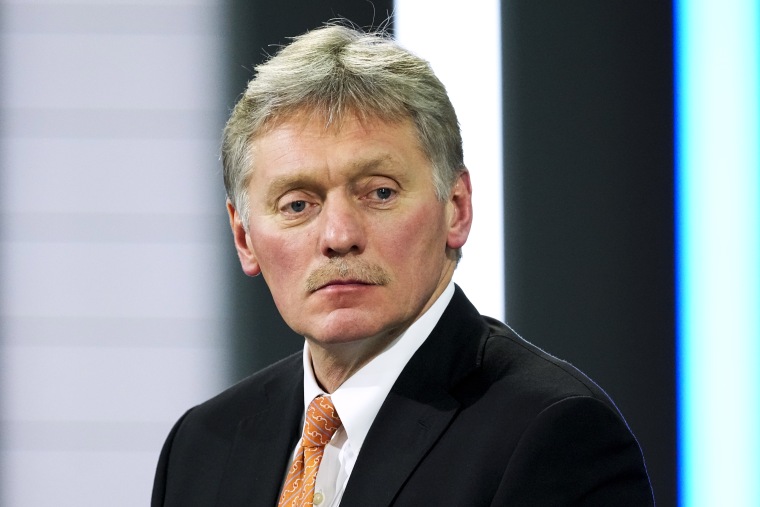 Calling them "legitimate targets" in an interview with the Carnegie Endowment for International Peace, Nuland said Washington supported Ukrainian strikes on military installations on the peninsula.
Peskov said her comments emphasized "the depth of our differences," and "probably also stresses the role of the United States as the primary source of present international conflicts."
Peskov's response came a day after Vice President Kamala Harris said the U.S. had determined that Russia had committed crimes against humanity in its war against Ukraine. 
"Russian forces have pursued a widespread and systemic attack against a civilian population — gruesome acts of murder, torture, rape and deportation," Harris told the Munich Security Conference in Germany, citing "execution-style killings, beatings and electrocution." 
Russia, which has said it is conducting a "special military operation" in Ukraine to eliminate threats to its security, has denied intentionally targeting civilians. 
Harris' comments came as senior world leaders met in Munich for the conference, which focuses on international security. Russian officials, who are usually invited, were left off the guest list this year. 
Harris also said that Washington was "troubled that Beijing had deepened its relationship with Moscow" since the invasion. 
Four U.S. officials familiar with the matter later told NBC News that China may be providing nonlethal military assistance to Russia for use in Ukraine. The Biden administration said it worried that China was considering sending additional lethal aid.
The officials declined to provide specifics about the nonlethal military assistance but said it could include gear for the spring offensive, such as uniforms or even body armor. 
Secretary of State Antony Blinken and China's top diplomat Wang Yi met after the Munich Security Conference Saturday, and a source familiar with the conversation said the Chinese assistance was "an essential topic of conversation." Blinken and other American officials have been sharing information about the Chinese assistance to Russia with allies and partners at the conference. 
China has refrained from condemning the Russian invasion while taking care to avoid violating international sanctions. It did not comment on the allegations from the U.S. officials.
Putin, whose dependence on China has deepened amid international isolation over his war, acknowledged last year that Beijing had "questions and concerns" about the conflict.
Courtney Kube contributed.