WARSAW — Tensions between the United States and Russia escalated on Wednesday following Russia's announcement that it was suspending participation in a key nuclear arms agreement— days after the treaty was used to warn the U.S. about an intercontinental ballistic missile test, according to Biden administration sources.
Russian President Vladimir Putin said on Tuesday he intends to suspend the New START arms treaty, which limits both countries' abilities to produce and launch nuclear weapons, in a speech timed with President Joe Biden's trip to Ukraine and other Eastern European allies this week.
On Wednesday the rhetoric out of Moscow escalated.
Dmitry Medvedev, a former Russian president, said the decision to leave the treaty was "overdue," warning the U.S. that Russia would reserve the right to use its nuclear arsenal — even if it means world war.
"If the United States wants to defeat Russia, then we have the right to defend ourselves with any weapons, including nuclear weapons," he said on his Telegram channel Wednesday.
The White House quickly criticized Medvedev's comments.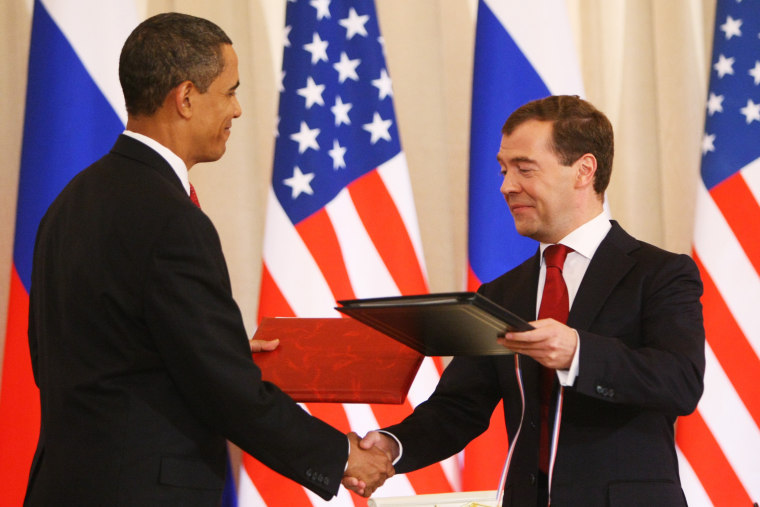 "As the President made clear last night, our focus remains on helping Ukraine defend its sovereignty from an unprovoked Russian invasion. Russia is the only aggressor here. And Russian rhetoric around the potential use of nuclear weapons remains as unwarranted as it is irresponsible," a White House spokesperson said in a statement.
The lower house of the Russian Parliament, the Duma, rubber-stamped the move in a unanimous vote on Wednesday, Russian state news agency Tass reported.
The back and forth came after reports about Russia testing a missile before Biden traveled to Ukraine.
A U.S. official and a Biden administration official confirmed to NBC News that Russia informed the U.S. of its intention to test a ballistic missile, as per the terms of the START treaty. The officials would not confirm the timing of the test but said it wasn't designed to coincide with Biden's Kyiv visit.
The administration official says these tests are routine and the Russians used the notification process in START to let the U.S. know — underscoring how the treaty remains part of the communication system between the two nations. 
This official also says the test did not pose a risk to the U.S. and that the Biden administration did not view the test as an anomaly or an escalation.
The U.S. also tests intercontinental ballistic missiles and has carried out more than 300 exercises.
Putin has several times used the threat of a nuclear strike on an unspecified target to warn against Western allies assisting Ukraine's military with arms and financial support.
"It is obvious to all reasonable forces that if the United States wants the defeat of Russia, then we are on the verge of a world conflict," said Medvedev, who served as president from 2008 to 2012 and then as prime minister until 2020. He is currently deputy chair of Russia's Security Council, which is chaired by Putin.
While Medvedev was president, the New START treaty was signed, which strictly limits the number of nuclear warheads the U.S. and Russia can store or use, and compels both sides to inform each other of any tests.
But Medvedev has since become a leading supporter of Russia's invasion of Ukraine and its right to use lethal force to deter Western support for Ukraine. On Monday he condemned Biden for providing weapons to the "neo-Nazi regime," a common way for hardline pro-war Russian leaders to describe the Ukrainian government.
Medvedev's comments come after it emerged that Russia conducted an intercontinental ballistic missile test before Biden visited Ukraine on Monday.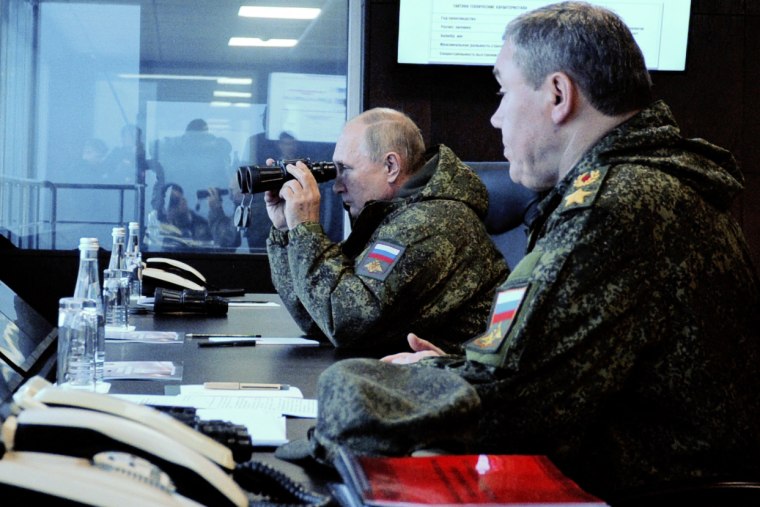 Kremlin spokesman Dmitry Peskov declined to comment on the missile test when asked in his daily press briefing with foreign media on Wednesday. NBC News has asked the Russian Ministry of Defense for comment.
In October Putin oversaw military drills by his tactical nuclear forces, including multiple practice ballistic missile launches.
Biden made a historic visit to Kyiv on Monday to meet President Volodymyr Zelenskyy and reaffirm the United States' commitment to Ukraine's defense of its territory against the almost year-old Russia invasion.
Biden used his Kyiv trip to call out Putin directly. "He thought he could outlast us. I don't think he's thinking that right now," he said.
The two leaders first met as presidents in 2021 and agreed to conduct regular "strategic stability dialogue" — a promise buried by Russia's invasion of Ukraine, which reaches its one-year mark on Friday.
New START treaty was renewed for five years in February 2021, when Russia's embassy in Washington hailed the agreement as a "cornerstone of international security."
Kristin Welker reporters from Warsaw, and Patrick Smith reported from London.