They included Sonu Jaiswal, a 32-year-old resident of Ghazipur, India, who recorded the flight's approach from his seat, according to a video verified by NBC News. 
Jaiswal was traveling with his three friends, Anil Rajbhar, 25, Vishal Sharma, 27 and Abhishek Kushwaha, 26, according to a spokesperson for Ghazipur district magistrate's office.
Cheering "it's a good time" with his friends, he was trying to catch a glimpse of Pokhara from his window as the flight approached. Jaiswal, smiling as he filmed filming, panned the camera around the seemingly calm flight with no apparent sign of distress.
Just moments later screams of terrorized passengers can be heard briefly before flames engulf the screen.
NBC News was unable to immediately reach their family members for comment.
According to a separate video shot by a ground witness and geolocated by NBC News, the plane was flying low over a densely populated part of the city before suddenly banking left and plunging from the sky.
It looked like a normal landing, said Diwas Bohara, who was casually filming the aircraft for his YouTube channel.
"Suddenly the plane went quiet and dropped from the sky," he told NBC News. "I thought today's my last day," said Bohora, adding the entire area shook violently.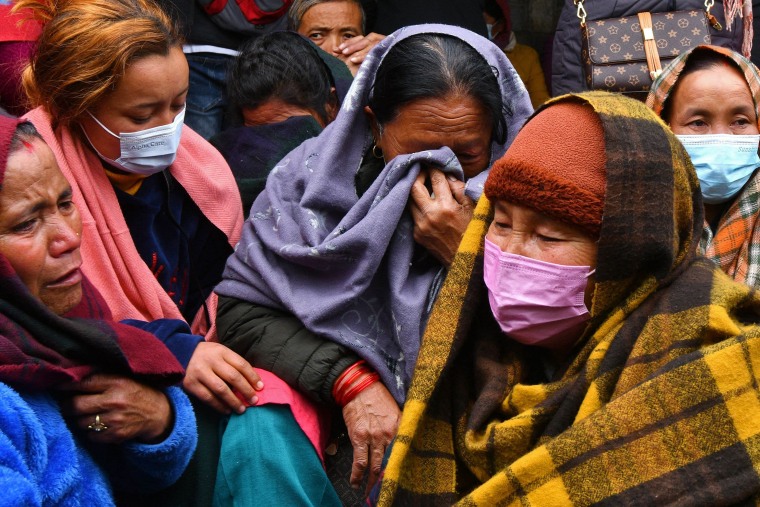 The co-pilot, Anju Khatiwada, 44, had joined the airline in 2010, following her husband who died in a crash piloting a small passenger plane four years earlier, a spokesperson for Yeti Airlines told Reuters. Khatiwada, who had more than 6,400 flying hours, had previously flown this route, the spokesperson said.
Nepal declared a day of national mourning on Monday and set up a panel to investigate the disaster and suggest measures to avoid such tragedies in future.
The Himalayan country is home to the eight of the world's 14 highest mountains, including Mount Everest, and has a longstanding history of plane crashes.
But Sunday's crash was Nepal's deadliest since 1992, when all 167 people aboard a Pakistan International Airlines plane were killed when it plowed into a hill as it tried to land in Kathmandu.
Nearly 350 people have died since 2000 in plane or helicopter crashes in Nepal, where sudden weather changes can make for hazardous conditions.
The European Union has banned airlines from Nepal from flying into the 27-nation bloc since 2013, citing weak safety standards. In 2017, the International Civil Aviation Organization cited improvements in Nepal's aviation sector, but the E.U. continues to demand administrative reforms.
Associated Press, Reuters, Carina Cheng and Matthew Mulligan contributed.